Top 10 Best Watches for Men Under 10K
Watches are immensely useful from the fashion perspective and while many rely on it solely for the purpose of showing what time is it, some fashionistas assure that with their watches too, they make a statement. Now, they have undoubtedly become one of the best forms of accessorising and are clearly loved for the fact that it can very easily substitute any other pieces and definitely elevate your style quotient. Also, just not that, watches are also another sign that shows extreme level of sophistication and refinement, if chosen correctly and paired well. Now, another thing that we love about watches is that it is not restricted to one style and that you can pair it with almost anything and everything. Also, the fact that it is not limited to just one type of venue and that you can wear it to college, school, office, parties, everywhere. So, without further digging into it, lets have the best watches for men under 10k that you will find online.
Top 10 Best Watches for Men Under 10K
#1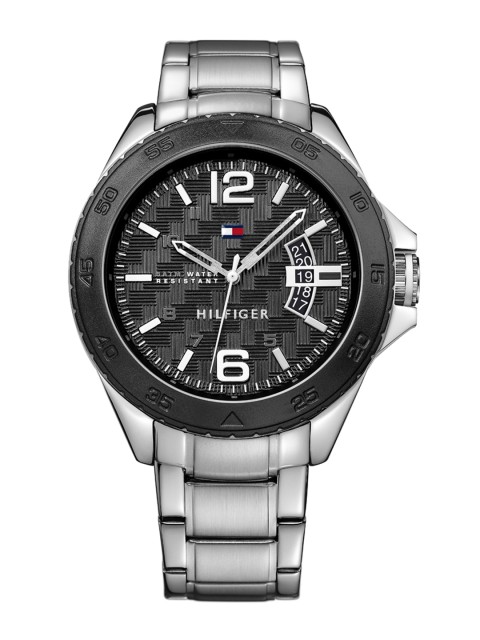 Ranking no 1 in our list of best watches for men under 10K  is This silver and black analogue watch by Tommy Hilfiger totally swipes people off with its simplicity. It is the most versatile thing that we have ever seen and you can switch the places and venues but with this intact, you will look wonderful and will slay in all of the places. The fact that it has a silver tones regular strap with no overworking and fancy styling, makes it all the more attractive and worth investing on. Plus, the name has it all.
#2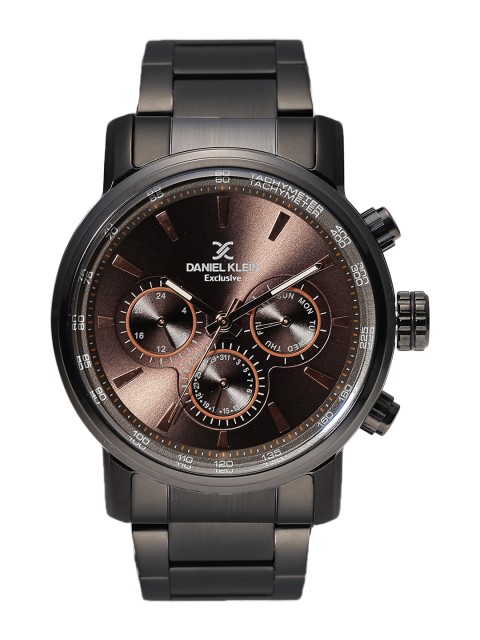 The apparent multi function watch by Daniel Klein is one of the most chic pieces ever with the strap seeming like that of a black bracelet. Also, it is another adjustable pieces that camouflages according to the environment but also stands out on its own and as ironic as it seems, it is true. It also has a beautiful brown dial with the glow in the dark inlays and that, definitely makes it all the more worth while.
#3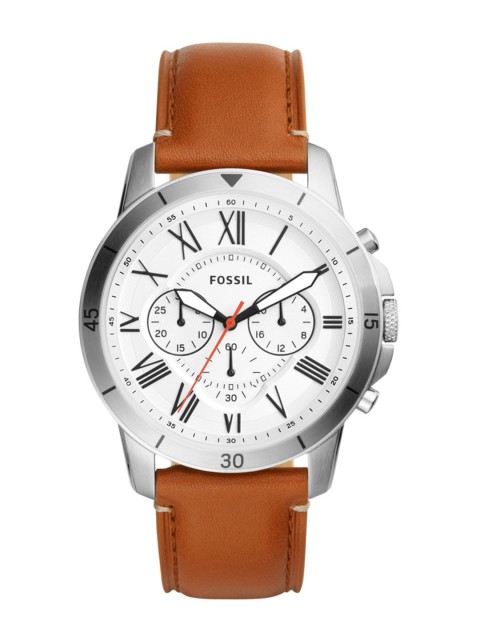 The silver toned analogue watch by Fossil is brilliant in its endeavour of making your outfit look brilliant and also, in making you stand out. It is very simple, with the chronograph and the round and solid steel dial. Coming to the leather strap, it makes the watch ideal for all your regular outings and college and etc where a casual approach is expected but that does not make it any less viable with the formal and sophisticated outfits.
#4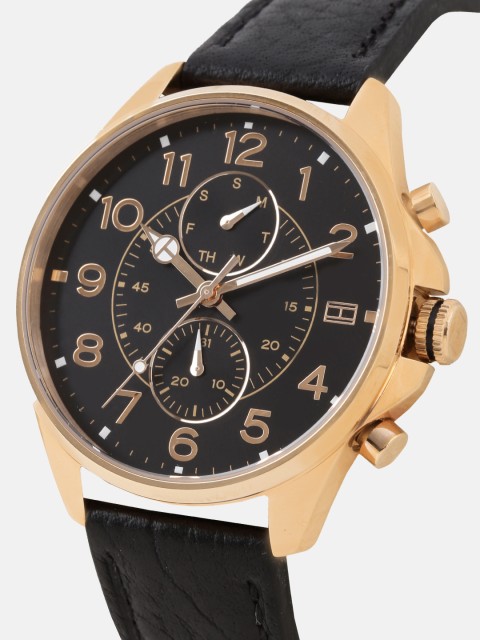 The black multi function analogue watch by Tommy Hilfiger is another piece that stands out for itself and looks great, irrespective. The round black dial with yet another spark of color and styling, totally helps and makes it look so much alluring. Also, the leather strap is another reason why you should buy it, for they guarantee that it is absolutely genuine leather. All in all, we clearly love this one and we are sure that you would too.
#5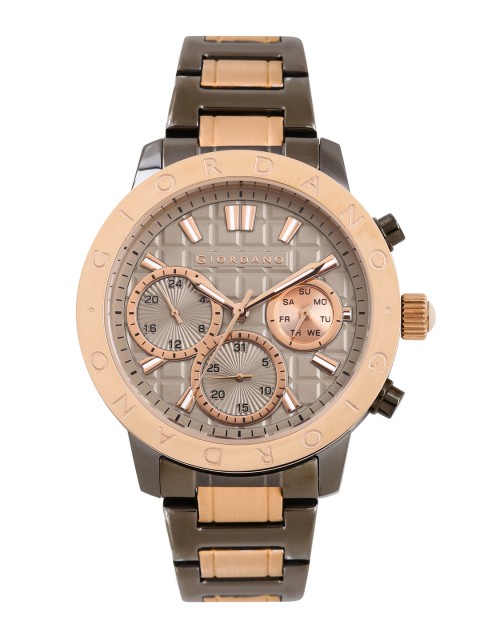 The grey analogue watch by Giordano is one great piece in our list of watches for Men Under 10K and we vouch for that and for all the men out there, who still are utterly in love with the classics, this one is for you. We love its patterned dial and also the effect it puts looks really classy. What we also love, is that it is farther away from the monotony of keeping men confined to a few colors and it very enthusiastically puts for men, the rose gold color, which by the way, would help you slay.
#6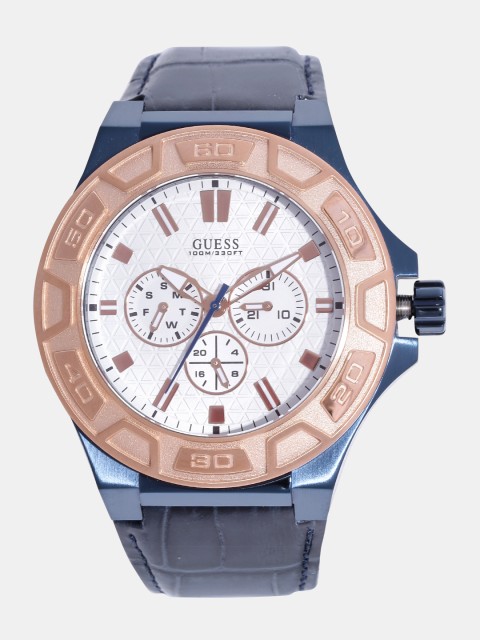 The off white multi function watch by Guess has been one of our favorites since the time we set eyes on it and how can it not entice you, is beyond our comprehension. The texture on the dial is brilliance and maintains the balance with not doing a little too much. We also love the navy blue strap and how well it lightens up the watch and also, the texture that it holds it equally good and all it all, it is worth the buy.
#7
For the men, looking out for utter simplicity, this off white analogue watch by titan is the one. It is probably the simplest of all, in our list of best watches for men under 10K, but at the same time, the fact that it is also very pretty to look at, is undeniable. We love the solid round steel dial and also the plain silver toned bracelet style strap. All in all, it is perfect for those who wish to keep it sober but in style.
#8
The copper colored chronograph dial watch is probably one of the most cool watch in the list of best watches for men under 10K and will especially and immensely appeal to the crowd that goes to college and parties and hangs out on a regular basic. The three faceted chronograph display is loved and so is the black colored dial with the glow in the dark inlays. Also, the genuine leather strap in navy blue makes it look all the more alluring and we are sure that you will love it.
#9
Casio has set another level in presenting before the world the great pieces, showcasing its craftsmanship every time. The Silver Chain Piece by Titan is a timepiece to desire for. The material used in the making is of high tech quality. The watch is simple and sober with the white dial.  The base of the dial is not very elaborated and gives a silent voice of the class in the watch.
#10
Last but not the least in our list of top 10 best watches for men under 10K is this brilliant piece by Tommy Hilfiger's Chronograph Watch collection. It comes with a tachometer, Date aperture, glow-in-dark inlays and also, along with reset time. The watch comes with steel toned bracelet coming with the gold coating on all over the body. It has the strap in a nice and elegant bracelet style. The solid round dial with the tachometer is another addition to its preciousness along with an electric blue base color of the dial. The watch is just royalty on your wrist since it is the result of scrupulous research and use of nanotechnology.
So, that is about with the watches. Now, these are not very expensive and also look great, irrespective. Considering the fact that watches are not really restricted to a limited time frame and that their style never goes out and also that they are so versatile, these will definitely take you a long way.