Best Movies to Draw Fashion Inspiration From
Virtual media is one of the most favored development, when communicating changes and new subjects is regarded. It definitely assures that the same becomes widespread because media is available to everyone and as and when people see it, they become immensely inspired to try out the same. This is just why, actors and designers have resorted to movies to break the previous social notions and restrictions and introduce a new range of conventions, here, a trend. And the thing about this is that, no matter what, it works. No one does not watch movies or even if not that, some piece that would keep them updated. They pose as the ultimate inspirations. C'mon, let's count the number of weddings when you have not heard "Kareena's designer lehenga"? None? Or maybe just one? See, that is how powerful movies is when it comes to starting trends. Nevertheless, some movies have made a huge impact and regardless, also served as the start for new trends. Let's get down to what those are.
Starting right from the start, Dil Chahta Hai, is believed to be quite a revolutionary movie for having raised the popularity of the apparent urban street style then. It had made exceptionally famous the metallic leather pants that the leads had donned while grooving to the beats of Hum Hai Naye. It is believed to have slammed the patriarchy quite well and some stereotypes associated with fashion for males. Other than that, what was a little too visible after the premiering of the movie were two toned shirts and cult halters.
Kabhi Khushi Kabhi Gham had a variety and we can legit vouch for it. While you were all a little too busy ogling at Poo, what was neglected was that the movie also featured Amitabh Bachchan, Shah Rukh Khan and Hrithik Roshan, all of whom had made a point to leave a mark with their acting skills as well as their outfits. As per Big B, he had led way to the Bandh Gala Kurtas which you will see are pretty much a trend even now. Hrithik Roshan slayed in the leather sleeveless shirt and bottoms in You Are My Soniya and Shah Rukh Khan completely stole hearts when he got down the chopper in the trench. The trio made much of an impact in the fashion world and stole hearts equally much. Nevertheless, towards the end of the movie, a few tears, each time, is a must.
In Kal Ho Na Ho, Saif Ali Khan, legit melted people down with his metrosexual makeover. He looked just like, hands down, the sweetest and cutest guy next door and that, quite made a change and very subtly normalized men's tendency of shopping and obsessing over fashion, else it had all still be "unacceptable" on the grounds that stereotypes suggest so. Throughout, he had flaunted his manscaped chest in the deep cut, V sweatshirts and all the other body hugging tees that he wore. He also threw a lotta light on the New York chic, street fashion and otherwise, with cashmere cardigans and turtlenecks. All in all, the wardrobe there, was quite impressive.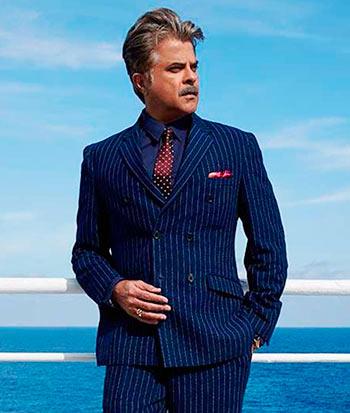 Dil Dhadakne Do, again, is a movie that comes with an undeniably great trio that has men who are flawless alone and together, add up to create one awesome army. Throughout the movie, a variant between chic, classy, stylish and sophisticated was seen. It had everything you will need and if at all, you could get the wardrobe home, you will be extremely content. Anil Kapoor's suit were on point absolutely. As per,  Ranveer Singh and Farhan Akhtar, who made a little appearance but that alone was enough to make an impact on the story and otherwise, they had the best of informal, extremely stylish clothing. The kind you can go out, party in, attend college, friends birthday, your birthday, lunch, dinner anything at all.
Khoobsurat, undeniably is one of the most cliched yet khoobsurat movies in the history of beautiful movies. It has so much to admire, from Fawad Khan to Sonam Kapoor's quirkiness, to the wonderful palaces and cars to one of the most inspiring women, Ratna Pathak. Irrespective, Fawad Khan must have given you quite a lot of dress up goals. His majesty did not once fail to display his royalty and prestige in the way he talked, dressed, carried himself etc. He could be summed up as perfection and his outfits were always on fleek.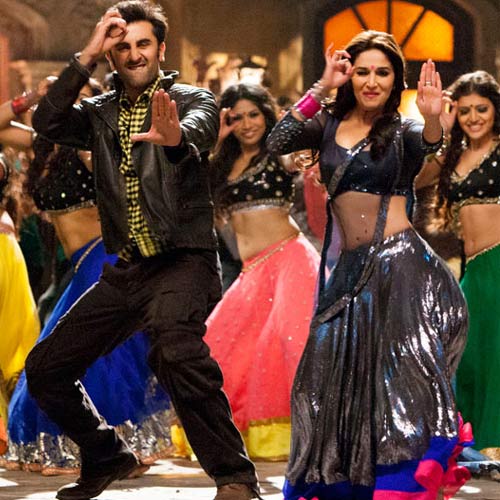 Yeh Jawani Hai Deewani is one of the best and most adorable movies ever. As much as we love the friendship the four hold and the sanctity of their bond, we have also in the process, developed the check list where one thing, is a trekking trip with friends. Bunny throughout has killed it. Right from the start, the leather jacket has become the audience's favorite, so much so, that it is extremely prevalent even now. He also slayed it in the kurta and payjamas that we wore in Dilliwali Girlfriend. He had inarguably established himself as one the bests, his wardrobe and made a profound impact.
Wake-Up-Sid paved way for the increasing popularity of what we see all the time right now, tees with prints of slogans, little cartoons or whatever fascinates one. Ranbir Kapoor was quite affected with the young fever and raved with the cutesy tees. He had it for himself with the catchy tag lines and cartoons that drove a lot of good attention and also made a perception of him being a sweetheart. The trend still prevails and currently, people chose to flaunt whatever pleases them. How often have you not seen a GoT fan owning a tee saying Winter in Coming? Or a Suits maniac with one of the many quotes by Harvey Specter?
I'm sure you all have watched these and definitely love their stories and more importantly, that outfits it has put out for all you men to imitate. These are some of the bests, undeniably and hands down, we are impressed with all that it has to show.
So, let us know what your fashion inspiration movie is and what you have imitated from it.
Until next time.