10 Best Floral Shirts for Men to get Online
Floral shirts are little too in trend at the moment and are widely appreciated just the same for men and women. They are just what you require to make statements, because at a time like now, you will find orchids and roses and tulips and all the other floral prints on the best of menswear trends. Do not raise your brows already because it does not stop there and the prints have been widely modernised and bettered to a point that a sight of these leads us to instantly picking it up. They are extremely chic and at the same time, very simple, and looks astonishingly great with no efforts at all. But, selecting the bests among such a huge lot is a huge task in itself, and to lessen the pressure of wearing exclusives on you, we have the list of the best shirts with floral prints that you should own if you desire to completely slay.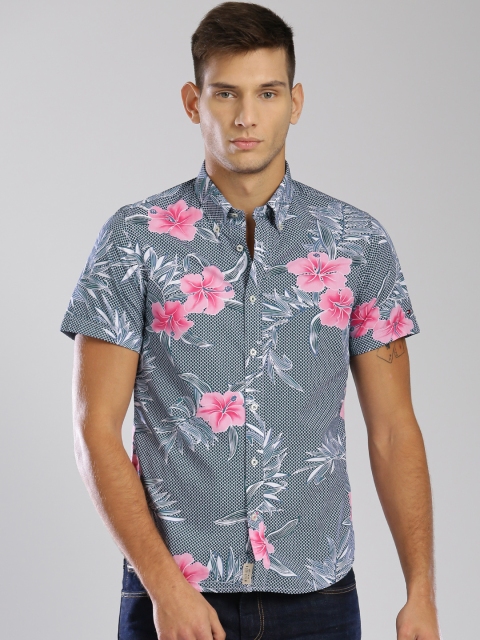 This is a simple yet a very pretty piece and this one, by Tommy Hilfiger, definitely suggests how looking great does not require much efforts just a very smart choice. The gray half sleeves shirt is skillfully defined with white patterns and the pink flowers make it look all the more better and a great element to pick up, all in all. Pair it with denims or trousers and tuck it or do not, you look great either way and that is the charm of this one.
This floral printed utility shirt is one thing that you have to own this season. It is simple and very plain but the printing of flowers is done so efficiently and elaborately that it covers up everything completely and just presents a plain awesome look that will make heads turn.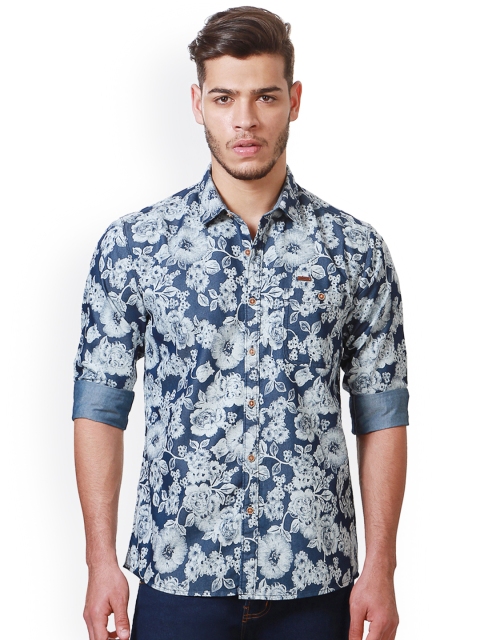 This blue shirt with floral prints is just what you need to skin the monotony route and adopt something classy and pretty. The white flower prints in this, will totally assist you in standing out and keep all the attention fixed at you because when you wear this, you will look nothing but a beautiful and fiercely hot man.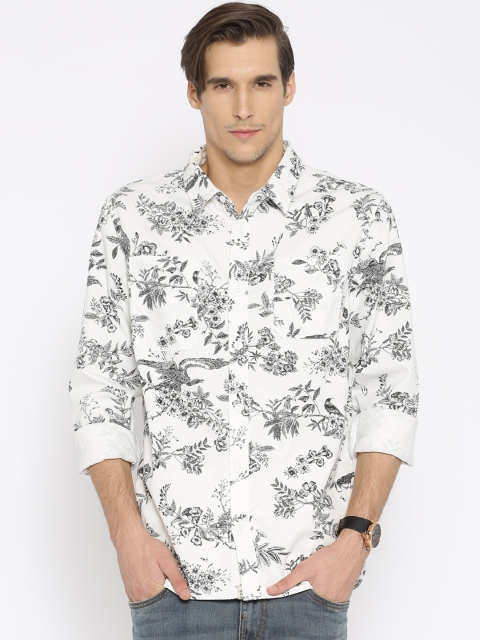 This white shirt with prints of black flowers and branches with little birds is just what you need to elevate your regular outfit and better it. This  one can be paired with black jeans or denims or even trousers, keep it tucked or leave it just like that, and you will slay your outfit irrespective. It is very plain yet absolutely trendy and owning it will make your wardrobe awesome.
Buy Now
This mauve slim fit casual shirt  is simply brilliant. The look as the result, is very simple and can be worn at multiple occasions be it office or Friday nights, brunches or even movies, it will look great in all the events and for formal events you can even team in with trousers and a nice jacket.
The super cool spread collar shirt with an all over floral print in red and bits of green on black looks, hand down awesome. It certainly will your off duty look a great and much required boost, brimming with freshness. The slim fit, short sleeved shirt can be sported at varying occasions and will assure that you look great in all of them.
The viscose shirt with floral prints by Zara is just the kind of elevation your wardrobe requires. It looks sophisticated and classy and the featuring of Kent collar and long sleeves, sets it apart and makes it look trendy. The shirt in anthracite gray will assure that you get the on point look each time you don it. Buy now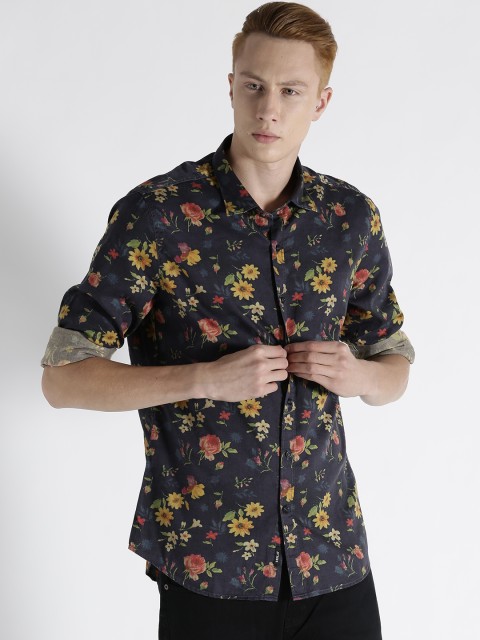 The casual shirt by Replay is definite to set up your dressing game. The floral prints of navy blue and mustard yellow looks just refreshing and pleasant. The product, all in all, is a pretty sight and makes you one too. Pair it with black bottoms and slay at a casual event.
The floral printed shirt by Being Human is legit super chic. The color deserves a special shout out because we do not usually come across floral prints on dark shades of olive green. The print is light and soft but definitely adds up to the look and assists is giving a flawless casual look to you for any event at all.
Buy now
This floral printed shirt by Being Human is vogue, It looks sophisticated and classy and the featuring of Kent collar and long sleeves make is look formal and trendy at the same time.
That makes up the best of floral shirts that you need to own this season and these would assure that you rock your outfits.
For more of fresh contents on fashion and the upcoming and ongoing trends, follow and subscribe and you want to see more of our suggestions give us a thumbs up and share.